Efficiency is tricky. Specially when you work from home and when you are still figuring out the work life balance. Then again how do you plan ahead? For things that can delay things during the day, how do you find time to compensate for them? Say you set aside an hour for bank work, and you get stuck in traffic for an hour. That will just affect rest of the plans for the day, isn't it?
Sooooo…. what can we do about that? I started reading about daily routines of successful people, what is prescribed in my religion, and tricks that has worked for others in my industry, etc. Almost all of those inspirations pointed towards the same, and that was to start the day early. When I say early it is not at sunrise, it is before first light. I am in Sri Lanka and what it means is that I have to start the day around 4:30AM.
How am I going to do that? Well apparently, on average if someone can force themselves to do something for 21 days, it gets into their muscle memory and it becomes second nature. If that is the case all I've to do is start the day early morning and then make sure that I balance my work vs life for 3 weeks and the things should just work.
However, here we are at the month of Ramadan. A rewarding month for Muslims that forces them to hit the reset button and take control of life, get rid of bad habits, get in shape, etc. So what I thought is to make use of the opportunity, prepare a schedule for myself, put that into use during the month and see if it works.
Guess what? Its been almost 10 days since Ramadan started, and I can already feel that things are in control, I get to be more productive and most of all maintain the same level of confidence and energy throughout the day.
Just to give you an idea, this is how my average day look like. If you are not a Muslim just assume these prayers are small yoga sessions, where you quickly cleanse your body with water and then perform at given time at given lengths.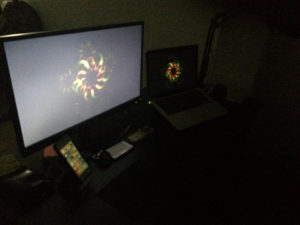 My daily routine
3:30AM ish : Wake up and freshen up, Pray Tahajjud (Optional prayer, a Muslim could perform after a good night sleep and before the first light), followed by pre-fasting meal.
4:30AM – 5:00AM : Go to the Mosque for Fajir prayers (Obligatory prayer), Dehiwala Masjid is 800m away and that gives me a 1.6KM walk in the morning. Opportunity that I get to enjoy the morning breeze, silent/empty streets, and start the day fresh.
5:00AM – 7:00AM : Work slot 1, I mostly use this slot to learn something new or work on bug-fixes (High chances of figuring out the issue, since you taking a fresh look at it).
7:00AM – 8:00AM : Get the inbox to zero, and plan my outside work. If i finish early get a power-nap!
8:00AM – 10:30AM : Drop my wife to work, followed by an open slot for outside work, meetings, bank work, buy groceries, etc.
10:30AM – 12:30PM : Praying Duha (Optional prayer) and starting "Work slot 2".
12:30PM – 1:30PM : Power-nap, after Ramadan this will replace with lunch.
1:30PM – 3:30PM : Praying Dhuhr (Obligatory prayer) and starting "Work slot 3".
3:30PM – 5:00PM : Praying Asr (Obligatory prayer) and starting "Work slot 4".
5:00PM – 6:30PM : Pick my wife from work, Mostly make use of the Colombo traffic to talk about the day.
6:30PM – 8:00PM : Praying Magrib (Obligatory prayer), Breakfast, Family time. This is my 15 month old daughter Haya's favorite time because she get to spend time with both of us.
8:00PM – 10:00PM : Praying Isha (Obligatory prayer), followed by Tharawih. a special prayer during Ramadan prayed at the Masjid.
10:00PM : I spend nearly 1/2 hour to check my mails and then continue spending time with family. This is when I get work assigned for the following day. The time office hours end in London, where rest of my team work.
This pretty much summarize my daily routine, and there will be some changes after Ramadan. I can bring the alarm clock up to 4:00AM for extra 30 minutes sleep and Ill have an empty slot at 8-10PM which will go for work/family depending on the workload.
Also about weekends, I usually work from Monday to Friday, therefore Ill get to replace work slots with family time and sometimes to pickup some freelance/volunteer work.
Hope this work, and Ill be more in control of the day to day activities.
By the way read this article at LifeHacker if you are looking for tips to wake up early How to start your day at 5:00 AM